ANTHRIEL: "I like to think that every ANTHRIEL album is more like a good movie or book, something that you can dive into for a while"
Progmetal band ANTHRIEL have been around for a while, but just caught my attention recently thanks to a friendly reco with their album "Transcendence" from 2017, which quickly became one of the most played records this year for me. So today, we won't travel only to Finland, but also a bit through time, as fortunately great music has no expiration date ;-) 

Band-Links: INSTAGRAM / FACEBOOK / YOUTUBE / SPOTIFY
Glad about them becoming part of this journey, as besides their fantastic music, they also had some amazing stories to tell. Welcome to read our chat, and check them out if you haven't done yet:
Hey Timo, thanks for making time to answer my questions. How are you today?

Thanks for asking, I'm perfectly fine and safe at home, surrounded by piles of snow. Even in Finland the amount of snow has been exceptional this winter, and we are running out of ideas where to drive it…. maybe to Sweden ;-)

Haha! Sounds like a plan ;-) Could you please introduce yourself and ANTHRIEL to our readers?

Sure! Hi folks, this is Timo Niemistö from Finnish progressive metal band ANTHRIEL. Our debut album from 2010 is "The Pathway", and "Transcendence" was released in 2017. Now we are about to begin the actual recording of our third album as we all are satisfied with pre-production.

Regarding our line-up, there have been some changes during the years, but Simo (vocals) joined 2009, Antti Horttana (bass) and Henkka Markkula (drums) came along in 2014, Tuomo Uusitalo (piano,keyboards) in 2021.

How did you come up with your name, and is there a deeper meaning or story behind "Anthriel" for you?
The name was found from the angelic dictionary, Anthriel is the angel of balance and harmony. That is also our musical goal, as we try to concentrate on good melodic lines and interesting rhythm sections without bouncing between extremities. Of course improving and challenging ourselves musically is the whole point of making music, but if the song begins to sound "difficult" it indicates a bad arrangement. Anthriel's music can be pretty tricky as we want to keep ourselves busy, but the true skill is to disguise all the sweat and tears into an "easy listening" arrangement.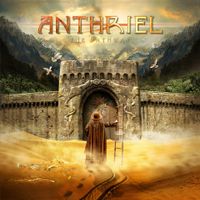 "The Pathway" is an impressive debut record in its entirety, offering beautiful melodies, great, varied song-writing and amazing instrumental parts with duelling guitar and keyboard runs.
You published two excellent albums so far, so let's first take a look at "The Pathway" from 2010, please. What can you tell us about the stunning cover artwork, and how does it reflect the album thematically?
Thematically, "The Pathway" was about getting courage to leave into the unknown, determined to go through every obstacle on your way to the promised land. "Devils Lullaby", the opening track, deals with observing ones mirror's reflection and feeling disgusted about it: "That is not the man you wanted to be, so something has to change".

"Transcendence" is your 2nd album. The front is different in color and mood, but not less beautiful than the debut. What was the idea behind this piece of art?

I like to think that every ANTHRIEL album is more like a good movie or book, something that you can dive into for a while in the middle of your busy everyday life. For me, music has always awakened a lot of feelings, and I think that's why I like to compose music that also has a lot of feeling and big themes.
As a child of 80's I have been lucky to live in the golden age of music business, and back then, the sleeve was as important as the album itself. Big LP cover art worked as a visual teleport gate to the music of the album.
In the "Transcendence" artwork, there are a lot of references from the lyrical themes, and it is important for me that music and cover tell the same story. If your album has orchestral cinematic themes, strong enough to slay dragons and blow up the Death Star, you just can't have a cover art of a "pink gay mouse taking a crap in an upside down toilet while smoking weed", you know…
Haha, indeed!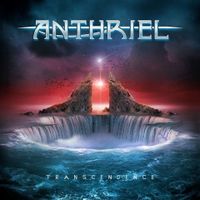 "Transcendence" is a brilliant prog album, coming along accessible at first listen, but with loads to discover while diving deeper into it. Heavier, darker, and more sophisticated than the debut, they take the listener on mesmerizing, musical journey.
Could you dive a bit into the album's concept with us, please?
Ok, so now on "Transcendence", the hero of our story has taken the giant leap into the unknown and left on a journey to find peace and harmony of his own. He encounters a lot of lessons in life while balancing between the light and dark. Guided by "My Dark Morning Star'' throughout his journey, keeping the sails away from the "Wells Of Eternity". Compared to our debut album, "Transcendence" is a lot darker, thematically and musically.
Where do you draw your inspiration from?

First two albums have a lot of inspiration by fantasy author R.A. Salvatore's "Forgotten Realms: The Dark Elf Trilogy", so with the third album, we also want to complete our album trilogy.
Of course we also like to write about themes that we are going through in our personal lives to give something original to our music. Behind every song there must be something that first of all we as composers and writers can rely on.
Could you briefly describe your writing and recording process, please?

Usually I compose most of the music and Simo writes the lyrics. On the upcoming third album, there is a lot of music from Simo that we have worked together. As a composer, I like to work with ideas and experiment with themes, melodies and rhythm sections. I am annoyingly precise with material, as I want a song to include all the elements that exceeds the threshold for the ANTHRIEL sound. Quality over quantity after all.

Let's talk about ANTHRIEL live: What was your most memorable show so far?

I think the Sauna Open Air-metal festival some years ago was quite memorable. Sauna Open Air is one of the biggest Heavy Metal festivals here in Finland, and it takes place in our hometown Tampere.

The Finnish metal scene is famous for having the most bands per 100.000 residents, and many well-known names come straight to mind. How would you describe your local scene, and is there anything special about it? Did you notice changes over the past few years?

Tampere has been famous for its rock live music and artists. Usually there are shows every night in some nightclub or festival. Tampere has this nickname: "Manse", and throughout Finland, there is this well known musical genre, "Manserock". So you can say that Tampere is the official rock city here in Finland.
Sounds like a fantastic place for music lovers :-) What can you tell us about your future plans?

For now, our focus is on the third album, but after that we of course would love to do some live shows. After our next record, we will work with a couple single releases. We have themes that have evolved in the background so big that they don't fit for the album, so we want to release them seperately at some point.

Awesome, looking forward to hear what you're working on! Do you have any further thoughts you'd like to share here?

Check out our social media, Facebook, Instagram, Youtube etc. and hit that like or follow button. Liking and sharing is the best way to support our music.
Thanks for the interview and all the best to you Katha and you folks out there! Stay tuned for Anthriel!
Band-Links: INSTAGRAM / FACEBOOK / YOUTUBE / SPOTIFY
Absolutely :-) Was my sincere pleasure \m/