THE ANCHORET: "Piece by piece, the virtual instruments were replaced by new, inspired, and beautifully-played sections"
Even though their music was already in the making for years, progmetal project THE ANCHORET came literally out of nowhere for us with the announcement of their debut, but caught me immediately. "It All Began With Loneliness" will be out on June 23rd via Willowtip Records, and I'm glad about the opportunity to welcome the man behind this masterpiece on our journey. 
Band-Links: WEBSITE / BANDCAMP / TWITTER / FACEBOOK / INSTAGRAM
Read more about the project's origins, the great artwork, and a mysterious, new genre description below:
Hey, thanks for making time to answer my questions. How are you today? 
Hello Katha! I'm doing well, thanks, very happy to be a part of your musical world tour! 
The pleasure is all mine :-) Could you please introduce yourself and THE ANCHORET to our readers? 
I'm Eduard Levitsky, the composer behind The Anchoret and by my own admission, the worst musician of the group, haha! The Anchoret is a progressive metal project that sometimes bridges over into progrock territory, featuring saxophone solos, mellotron vibes, gospel vocals… 
Someone over on Twitter said that we are "Kitchen Sink Metal™️", as we bring in everything but the kitchen sink into these songs... and I tend to agree with that statement! 
Haha, I guess we know this legend (cheers KMan). Thanks for the explanation of this new genre desciption. You're set to release your brilliant debut in June. How do you feel about it, and how was the reception so far on the first singles? 
I feel extremely proud and happy to finally be sharing this album with the world. It was a long, long journey, sometimes a lonely one, and I feel like I'm finally getting closure! It feels great to send this out to the universe, and the reception has been overwhelming thus far. I have never expected to have as much support from both, the prog rock and metal community… I am absolutely humbled!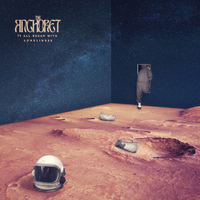 I have to admit that, even though having already spent countless hours with this magnificent album, I'm still struggling to find words for what's going on here... The whole piece is incredibly creative yet always flowing, with marvelous, soulful musicianship, unique in its sound, highly expressive, and has become a real gem for me.
Absolutely well deserved :-) Let's take a look at the touching cover artwork of "It All Began With Loneliness": What can you tell us about its origins, and how does it reflect the album thematically? 
The album was, in the most part, written during the pandemic, and deals with the isolation and anxiety I was feeling while living through a more and more kafkaesque lockdown world. Because The Anchoret was my outlet and therapy through these uncertain times, I was looking for an image that could best capture that feeling of isolation, sure, but escapism as well. I was lucky enough to find the perfect image by the amazing artist MiraRuido (Joseba Elorza). 
True to its title, the album deals with feelings of isolation in one form or another. Though there are definitely many ways to interpret Sylvain's lyrics, more importantly, every song has a positive spin about self-growth and self-help that provides much needed respite and hope. 
That's wonderful, and definitely much needed. 
We're currently overwhelmed by new music, but you managed to create something very special and unique in my ears, with the album being incredibly diverse and highly expressive. What is your musical background, and where do you draw your inspiration from? 
Thank you so much for the compliment! I think that the album comes from an extremely sincere and naive place. I am neither a prog music historian nor a virtuoso musician, and by that definition alone feel like I do not fit the mold of what is considered prog today. 
Imposter syndrome aside, I did not set out to push the envelope in one way or another, but simply wanted to pay respects to all the music and bands that have accompanied me during the best and worst times of my life. Musically, the album is an open love letter to bands I grew up with and that my father listened to. Perhaps out of sheer nostalgia, a little of their DNA ended up mixed in with my own, I guess, more extreme, metal voice. 
With so many different, international based artists being involved here: Could you briefly describe your writing and recording process, please? 
The idea was to create the most complete and polished sandbox I possibly could. I played and recorded all the instruments I could play or fake my way through, used virtual instruments when I could not, and made sure to carefully highlight certain sections before reaching out to other players. At this point the demos were complete and showcased meticulously programmed drums, my unfortunate attempts at guitar solos and a few keyboard parts that, funnily enough, ended up making the cut! 
I knew I was shooting for the moon reaching out to these amazing musicians, but I wanted a Plan B if nothing else worked out. I reached out to friends, to musicians I followed, to colleagues I just met over the internet. Maybe it was fate, or good timing but I got extremely lucky as most were available and open to collaborate! From that point on it was all about coordinating studio time and managing time zones! 
I see. The Anchoret came literally out of nowhere for us with the recent album announcement, but the dedicated prog-lover might spot some familiar faces in the line-up, revealing that there are experienced musicians at work. How did you guys get together for this new project? 
Once I had a polished and adequately-produced demo, I started looking for musicians to replace the virtual instruments, one by one. Every day, I ritualistically searched the web, sent inquiries, and annoyed people into accepting to collaborate on the project. 
I stumbled on Andy Tillison, whom I consider progrock royalty, when I was looking for a synth/keyboard player with access to a Hammond organ. He was gracious enough to collaborate on a song, then another, then another and suddenly, I had run out of songs. 
Piece by piece, the virtual instruments were replaced by new, inspired, and beautifully-played sections. I am lucky enough to call Sylvain a friend for many years now, but I always was, first and foremost, his biggest fan. Even at the earliest stages of The Anchoret, I only had his voice in mind. I really wanted to put all the odds on my side and reached out to Sylvain only once the album was complete - musically, at least. The rest, as they say, is history!
How did you come up with your band's name, and is there a deeper meaning behind "The Anchoret" for you?
The project was created, written and recorded during lockdown, far from friends and family, in a city that was new to me. I felt permanently enclosed within 4 walls…and the word "Anchoret" came to mind.

Since we're musically travelling around the world with this column: How would you describe your local rock / metal scene, and is there anything special about it? Did you notice changes over the past years? 
I am extremely proud of the local scenes here in Montreal and Quebec City. Bands coming out from these cities tend to push the boundaries and reshuffle rules. From Voivod to Gorguts to Beyond Creation, the local scene is ripe with amazing music that inspires constantly. The last few years were extremely tough and the current post-COVID situation regretfully pushed some amazing bands to call it quits. I am still reeling from The Agonist announcing their split… 
Which brings us straight to today's music business - As an independent artist: What are your experiences regarding the biggest chances and challenges? 
I think one of the biggest challenges for bands in today's climate is, unfortunately, touring… Inflated merch cuts by venues, the rising cost of, well, everything… to say times have been tough for even the most hard-working musicians would be an understatement. 
But not all is doom and gloom! I've noticed a sudden surge of new, original, genre-bending and experimental bands coming out post-pandemic - bands that maybe had that extra time to "Sgt. Pepper" the music a little more than usual. 
Maybe it's a result of the current climate, but I feel like labels, promoters and music fans are generally more open to hearing that sort of more outlandish stuff - in metal at least! I mean, we're a perfect example of that! Jason from Willowtip Records took a chance on a virtually unknown band that has the potential to piss off both prog fans and metal fans alike, and provided outstanding support every step of the way by still remaining, first and foremost an honest, truly forward-thinking, believer in the music.
Great to hear that, and can confirm from the music-lover's side that he does a fantastic job! What can you tell us about your future plans? 
Though I'm dying to meet all the amazing people who have collaborated on this album with me, many of whom became dear friends and mentors, I would love nothing more than to figure out the best way to bring everyone together for shows! Also, it is never too early to start writing the next album! 
Sounds both highly promising to me :-) Before we wrap things up, do you have any further thoughts you'd like to share here?
I would like to take the opportunity to thank everyone for supporting The Anchoret. The response has truly been overwhelming thus far and we are counting the days until the album is finally out and in your hands. 
"It All Began With Loneliness" is set to launch June 23rd on Willowtip Records! If you can, please take a moment to follow us on social media:  
Band-Links: WEBSITE / BANDCAMP / TWITTER / FACEBOOK / INSTAGRAM

Done ;-) Thanks again for your time, and these amazing insights into your work. All the best for you and the release \m/ 
Thank you so much for the opportunity and your kind words!